Managed IT Services Cleveland Ohio
Never worry about your IT again with TRNSFRM's comprehensive Managed IT Support plan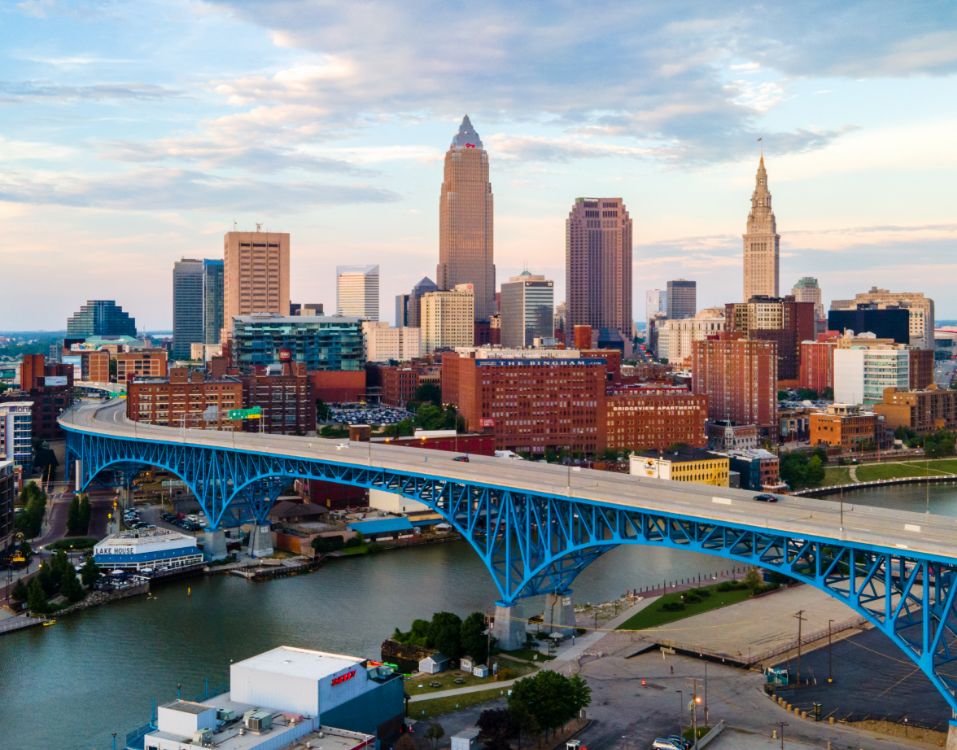 Based on 108 reviews

"*" indicates required fields
We were born in Cleveland and we'll quickly and efficiently resolve any IT issue you have so you can get back to work
Effective technical support requires a team with broad and deep expertise in multiple areas of technology. Small IT teams often struggle to provide this level of support, especially when multiple high-priority issues arise simultaneously. This can lead to IT staff being overwhelmed and unable to keep up with maintenance tasks, which can cause operational disruptions.
If your IT team is struggling to keep up with the demands of your business, you need an IT expert to help you get your technology back on track. TRNSFRM can provide you with the IT support you need to minimize outages and downtime, so you can focus on running your Cleveland, OH business.
We can fully take over your tech support or supplement your IT team's capabilities so they can focus on mission-critical tasks while we handle the tedious day-to-day issues. We will also provide you with a clear, jargon-free report of how we are improving your IT responsiveness and effectiveness overall.
To get started, please give us a call today to schedule a free assessment. Our friendly, professional, and highly knowledgeable IT experts will guide you through our simple onboarding process so you can enjoy Ohio's preferred IT support team as soon as possible.
Managed IT Services and IT Support Services from TRNSFRM
For a predictable monthly fee, you will gain access to our full suite of essential IT services that manage every aspect of your IT so you don't have to.
Do you want to see how TRNSFRM's Managed IT Services lead to the ultimate business transformation?
When you work with TRNSFRM, you can expect:
We provide a comprehensive IT support and service plan for your company with expert technicians on call 24/7.
Frequently asked Questions
What are managed IT services?
Managed IT services are a comprehensive set of IT support and consulting services that can help businesses of all sizes improve their IT infrastructure and operations. Managed IT services providers take care of all aspects of your IT, from day-to-day maintenance and support to long-term planning and strategy. This frees up your internal IT team to focus on other strategic initiatives, and ensures that your IT systems are always up and running.
What are IT support services?
IT support services can help you resolve any technical issues you might have with your business technology. Our team of experts can quickly diagnose and fix problems, whether they're hardware or software related. We offer remote and on-site support, so you can get the help you need when you need it.
Do I need IT consulting?
If you're looking to grow your business quickly and scale up your operations efficiently, IT consulting can help. Our IT consultants have the expertise and experience to help you plan, implement, and manage large IT projects so you can reach your goals faster and get everything done on time. We understand that running a business is complex, and that's why we're here to take the stress out of managing your IT infrastructure.
How can IT support services benefit my business in Cleveland, OH?
Even minor technical issues can have a major impact on your business. When your IT systems are down, your employees can't work, your customers can't be served, and you can lose money. That's why it's important to have a reliable IT support team on your side. Our team of experts can quickly diagnose and fix any technical issues, so you can get back to business as soon as possible.
What if I already have in-house IT staff?
We can work with your team to provide strategic IT consulting and manage complex, demanding projects that are beyond their capacity. This will allow you to focus on your core business activities while we take care of your IT needs.
What are the IT support costs per user in Cleveland?
The IT support costs per user in Cleveland vary depending on the size and complexity of your business, as well as the level of support you require. However, as a general rule of thumb, you can expect to pay between $150 and $250 per user per month for managed IT services. Some of the factors that can affect your IT support costs include the size of your business, the complexity of your IT infrastructure, and the level of support you require.
Don't take our word for it, see what our satisfied clients have to say
At TRNSFRM, we're here to help. Our team of experts specializes in providing compliance and cybersecurity services that simplify your IT and protect your business. We'll work with you to identify your unique needs and provide customized solutions that streamline your technology and keep you compliant.
TRSNFRM is a fabulous company to work with! They are knowledgeable, professional, reliable, prompt, and friendly. My company works with them daily and they provide excellent IT service for the 47+ locations we have. They are quick but also thorough. Always going above and beyond to help us out and get done what we need. Every member of the TRNSFRM team is a valuable asset for which I am professionally and personally thankful.
TRNSFRM have been our IT specialists for almost 8 years. We appreciate their expertise and speedy help whenever we are in need. They always make time to answer questions and explain issues in a way I understand. They are quick to problem solve and get me back and running! I am so glad they are only a phone call away!.
Jeff and his team have been fantastic to work with. They masterfully combine superior tech skills with a friendly attitude which results in a wonderful customer experience. The patience they have when explaining complex tech issues to non-tech people is noted and greatly appreciated. Even when tacking tough problems, they deliver on time, in budget, and with a smile.
So stoked with Jeff and his team. These guys are professional, courteous, timely and super knowledgeable. I was able to describe our networking problem, show them our systems and from there they just went to town figuring out what was really long and providing an affordable solution! Will be working with these guys for many years to come!
Could not be happier with the service we receive. No matter what the issue they quickly respond and resolve. The entire team is professional and knowledgeable. Russ is especially great to work with. I would not recommend any other IT team to work with.
Here Are 15 Things We Love About Cleveland Ohio
Rock and Roll Hall of Fame

A mecca for music fans, this museum chronicles the history of rock and roll and celebrates the artists who have made significant contributions to the genre.



Cleveland Museum of Art

Home to a diverse collection of more than 61,000 artworks, it's renowned for its Asian and Egyptian art, as well as a vast collection of European painting and sculpture.



Cleveland Metroparks Zoo

Spanning 183 acres, the zoo is home to thousands of animals representing hundreds of species, including the very popular Asian Highlands exhibit.



West Side Market

One of the oldest operating indoor/outdoor markets in the country, it offers a wide array of fresh produce, meats, dairy products, and ready-to-eat meals from over a hundred vendors.



Cleveland Orchestra

Internationally acclaimed, the Cleveland Orchestra offers breathtaking performances at Severance Hall and at Blossom Music Center during the summer.



Cuyahoga Valley National Park

A national park that offers hiking, picnicking, cycling, and beautiful scenery, providing a natural refuge for residents and visitors.



Playhouse Square

A renowned performing arts center boasting stunning architecture and a rich history, it hosts Broadway shows, ballets, concerts, and other live performances.



Great Lakes Science Center

An excellent destination for families, offering interactive science exhibits and the awe-inspiring NASA Glenn Visitor Center.



Cleveland Botanical Garden

Home to beautiful gardens, including the Eleanor Armstrong Smith Glasshouse, which houses a Costa Rican rainforest and a Madagascar spiny desert.



Little Italy

This vibrant neighborhood offers a delightful collection of restaurants, galleries, and boutiques, serving as the hub for Italian culture and cuisine in Cleveland.



Lake Erie

The city's location on the shores of Lake Erie provides ample opportunities for water sports, boating, and enjoying beautiful sunsets on the beach.



Progressive Field

Home to MLB's Cleveland Guardians, it offers an intimate setting for baseball games, with modern amenities and fantastic skyline views.



The Cleveland Museum of Natural History

This museum features extensive collections in paleontology, archaeology, and mineralogy, among others, offering an enriching educational experience.



University Circle

A vibrant and culturally rich neighborhood home to many of the city's major museums, educational institutions, and historic buildings.



The Historic Warehouse District

Known for its beautifully preserved Victorian-era architecture, it's a hub for dining, nightlife, and loft living, melding the old with the new.